Toni Gonzaga's hosting stint in Binibining Pilipinas Coronation night criticized
Celebrity superstar Toni Gonzaga went trending on social media after the Binibining Pilipinas coronation held last night at the Araneta Coliseum.
Actor Xian Lim who looked dapper in a Francis Libiran suit and Toni Gonzaga who had a Cinderella moment on her Michael Cinco gown hosted the prestigious event.
Apart from Toni's magical gown that got people netizens chatting and posting, she instantly became the topic on the Internet after some netizens reacted on her what appears to be snide remarks during the question and answer portion.
Here are some of Toni's remarks and statements that got people reacting.
Toni took notice of a candidate's earring comparing it to a "chandelier":
When Binibining 28 Hannah Ruth Sison, took the center stage for the Q&A, Lim greeted the contestant,
Xian: Hello Hanna, welcome back
Toni: Wow, your earrings, has its own theme song. (Singing) "I'm gonna swing from the chandelier" (then held the contestant's earrings).

She also scoffed one of the judge's surname:
Toni to Binibining 25: I love your last name Rogelie Catacutan . But red might be your lucky color for tonight. Let's see who you're judge is. Oh Mr. Frederick Go, go.. go

Those who watched the pageant live and on tv can't helped but comment that the event turned into a comedy and a noon time show:
But some netizens didn't mind Toni's punchlines. Some even defended Toni saying that the actress threw lines like those to ease the nervousness of the candidates. Celebrities even tweeted how they enjoyed the show because of Toni. Even Sara Meier who happens to be one of the judges commended Toni for the entertainment. However, those who are passionate with the elegant event did not find it acceptable and fitting for the occassion.
It was the post of former beaty queen Nina Ricci Alagao who got Toni's fans very angry. Venting on her Facebook account, the 2002 pageant title holder posted a lengthy comment on Toni's hosting, adding strong comments about the appearance of Toni Gonzaga 15 years ago.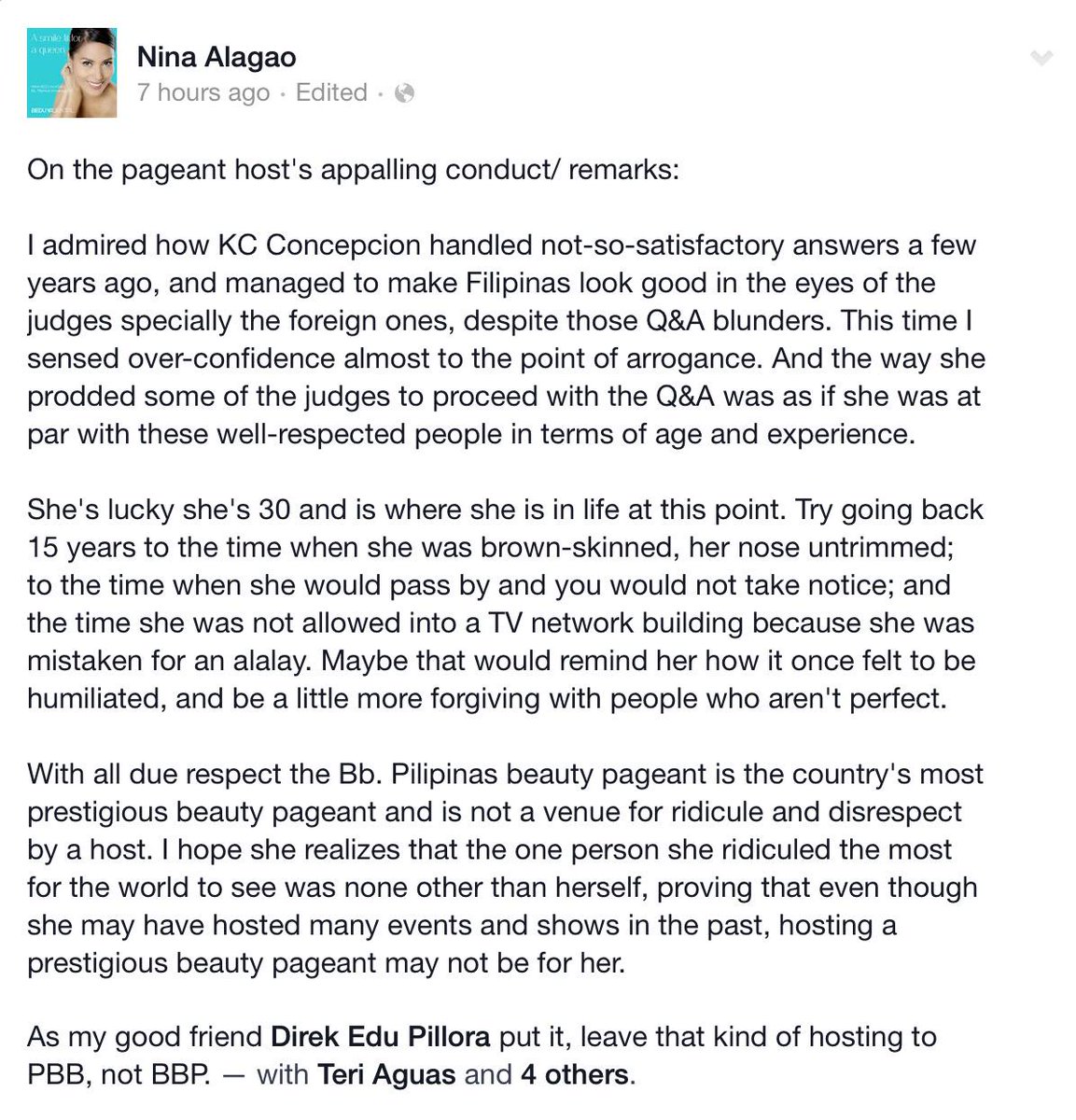 Meanwhile, the reported post has already been deleted and was replaced with an apology.